THE FRANCISCAN CHURCH OF ST. BONAVENTURE
1300 Leslie St., Toronto, ON., M3C 2K9; Tel.416-447-5571;Fax:416-447-4082
Website: www.st-bonaventure.ca
YOU ARE ALWAYS WELCOME AT ST. BONAVENTURE!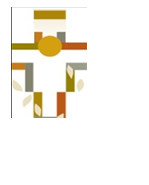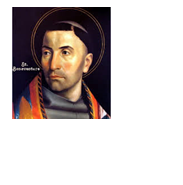 GROWING IN SPIRIT, COMMUNITY AND SERVICE
Inspired by St. Francis we seek to live and proclaim the gospel in our daily lives,responding to
the spiritual hungers of the community and becoming an oasis of peace, prayer and service.
January 21, 2018
The Third Sunday in Ordinary Time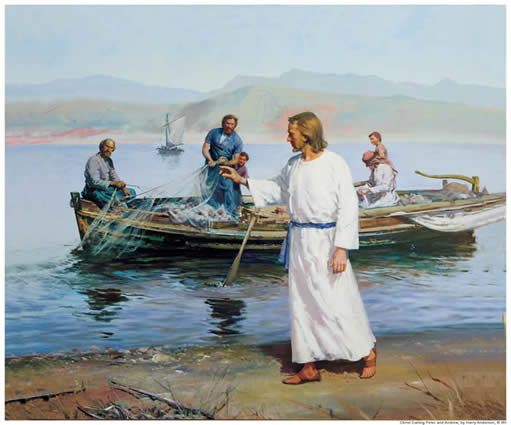 "Come follow me and I will make you fishers of men"
Must you be called as a missionary and, for instance, go to Africa? Or could your call be to bring the Good News wherever you are, in whatever you do? Which way does Jesus call you?
According to Pope Francis's statement below, do you have to be perfect to be called? Is the Lord with you when you make mistakes? How does he show his eternal love?
It seems in this passage that Simon, Andrew, James and John are chosen once-and-for-all: and yes, they were chosen! At this moment in the story, however, they had not been faithful to the last. After being chosen, they went on to make mistakes. …
How did the Lord work it all out? He stepped in, He straightened the path. He put things right. Think of the great David, a great sinner, and then a great saint. The Lord knows. When the Lord tells us: 'With eternal love, I have loved you,' He is referring to this. The Lord has been thinking of us for many generations−of each and every one of us.
Pope Francis: God's love is good beyond comprehension, January 14, 2014, Casa Santa Marta Chapel, Copyright©2017, Anne Osdieck. All rights reserved.
The first disciples demonstrate such readiness and resolve: leaving behind their thriving business ventures, family and employees, they follow Jesus regardless of the cost. Their actions are not a counsel to shirk life's responsibilities, but to make God priority. Saint Paul also advises living with this detached perspective, always ready to follow and to make Jesus' way our own. May such unity in willing discipleship be a gift for us and for the entire Christian family.
Christine Mader, Waverley, NS
St. Bonaventure's Ministry with Maturing Adults
"Living our Spirituality in the Second Half of Life"
2018 Dates and Program Topics
Tuesdays, 9:30-11:30 am, in the Francis Room
January 23 Dementia and Alzheimer's – Fostering Compassionate Presence
January 30 Creating Circles of Care – What happens when I or a loved one needs support and care at home?
February 20 Advanced Care Planning – This spiritual practice of reflection and dialogue is for all adults. How to let people
in your life know what kind of health and personal care you would want in the future if you were unable to speak for yourself.
February 27 Understanding Islam – Being in dialogue with neighbours
March 13 Homeless in Toronto
March 20 The Wisdom of Teresa of Avila – Responding to the summons of our elder years
April 24 Special Event with luncheon
All are welcome. There is no monetary cost for this program.Contact Maureen McDonnell for more information at maureen@st-bonaventure.ca or call 416-447-5571 ext. 550

Catholicism is a groundbreaking Documentary Film Series created and hosted by Bishop Robert Barron. In breathtaking and high-definition cinematography, the truth, goodness, and beauty of Catholicism are illustrated in an epic multimedia experience. We will be viewing the last five of Bishop Barron's topics in 2018. Each topic is about 45 – 55 minutes long. The series is at 7:00 pm in the St. Bonaventure Church Main hall on the following evenings.
February 7 – A Body both Suffering and Glorious – The Mystical union of Christ and the Church.
February 14 – Word Made Flesh, True Bread of Heaven – The mystery of the liturgy and the Eucharist.
February 28 – A vast Company of Witness – The Communion of Saints.
March 7 – The Fire of His Love – Prayer and the Life of the Spirit.
March 14 – World Without End – The Last Things.
Unauthorized Handouts and Posting in the Parish
We recently had unauthorized distributions of pamphlets and advertisements in the parking lot and unauthorized posting in the Church bulletin board. Parish sanctioned events, materials and information are not promoted this way. Persons, businesses, and organizations wishing to advertise to our parishioners must speak to Fr. Peter or Connie Durante in order to receive permission to do so. Thank you for your cooperation!
Parking Lot Issues!
Please refrain from parking in the Fire Route in front of the church and in the school area. Emergency vehicles need to have access to these areas. Also, Wheel-Trans can refuse to drop people off or pick them up in fear of getting trapped in the traffic. Please do not park in the accessible parking spots unless you have a proper permit. Anyone parking illegally can be ticketed and fines are severe. There is ample parking in the back of the property. Notices will be placed on vehicles that are improperly parked and the police will be notified. Thank you for your cooperation!
Requests for Baptism Records
To request a copy of your child's baptism record, contact the Ministry Centre by phone or email nimfa@st-bonaventure.ca. Provide your child's full name, date of birth and approximate date of Baptism. You will also need to provide photo identification such as a copy of your driver's license or passport.
Requests need to be made 5 days in advance of the time that the record is needed. In keeping with
the policies of the Archdiocese of Toronto, we follow civil legislation pertaining
to privacy and access to information.
Stewardship: A Way of Living
January 14 Offertory Collection
Thank you for your generous donations. Regular Collection: $ 6,986.15 Franciscan Missions Offering: $ 325.00Solemnity of Mary: $ 65.00Initial Offering: $ 233.00Pre-Authorized Giving: $ 2,926
Donate Now: $ 328
Second Collections:
February 4 – Maintenance Fund Offering
ShareLife Sunday:
March 18 – First Offering
April 22 – Second Offering
May 27 – Third Offering
Gifts of Securities
Do you have securities that have gone up in value? You can now make your parish offertory and special collections gifts using securities (stocks, mutual funds, bonds). You will not have to pay any capital gains on securities gift and you will get a tax receipt for the full amount. For more information contact the Development Office of the Archdiocese of Toronto at 416-934-3411 or email: development@archtoronto.org
Theology and Tea
Next T & T will be on Thursday, February 1st after the 9:00 am Mass, and alternating Thursdays thereafter: February 15; March 1st, 15th, 29th and so on, mark your calendars. The sessions are open to all parishioners and their friends.
A Celebration of Marriage
Sunday, February 11, 2018, 3:00 pm at Blessed Trinity Parish, 3220 Bayview Ave., North York.
A mass will be celebrated by Cardinal Thomas Collins for a special recognition for couples celebrating 25th, 40th, 50th, or 60 + anniversaries in 2018. (reception to follow). All are welcome! To reserve designated seating for a milestone anniversary couple or for more information, call 416-934-3400 ext.523 or visit www.archtoronto.org/mariage
Third Sunday in Ordinary Time – January 21, 2018
'Vocation Seeds'
The call of the disciples is so familiar to us that we tend to miss the wonder of the disciples' response, which was immediate and complete; they leave everything and follow Jesus. Can we do less if we feel that God is calling us to the priesthood, religious life or deaconate? If you think God is calling you to a Church vocation, visit the website: www.vocationtoronto.ca; vocations@archtoronto.org; www.franciscans.org, or speak with one of the friars.