THE FRANCISCAN CHURCH OF ST. BONAVENTURE
1300 Leslie St., Toronto, ON., M3C 2K9; Tel.416-447-5571;Fax:416-447-4082
Website: www.st-bonaventure.ca
YOU ARE ALWAYS WELCOME AT ST. BONAVENTURE!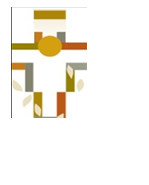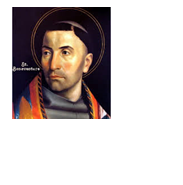 GROWING IN SPIRIT, COMMUNITY AND SERVICE
Inspired by St. Francis we seek to live and proclaim the gospel in our daily lives,responding to
the spiritual hungers of the community and becoming an oasis of peace, prayer and service.
December 10, 2017
The Second Sunday of Advent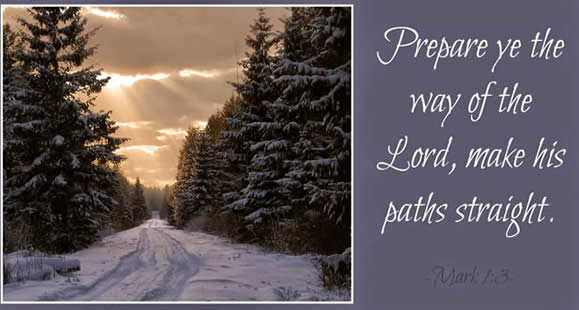 'Prepare the way of the Lord'
Compare the statement of John the Baptist that he is, as Isaiah prophesied: "a voice of one crying out in the desert: 'Prepare the way of the Lord, make straight his paths'" (John 1:23), with Pope Francis' statement:
My mission of being in the heart of the people…is not
an "extra" or just another moment in life. Instead, it
is something I cannot uproot from my being without
destroying my very self. I am a mission on this earth;
that is the reason why I am here in this world. We
have to regard ourselves as sealed, even branded, by
this mission of bringing light, blessing, enlivening,
raising up, healing and freeing. All around us we
begin to see nurses with soul, teachers with soul,
politicians with soul, people who have chosen deep
down to be with others and for others.
Pope Francis, Evangelii Gaudium 273
How do you share John the Baptist's mission to proclaim Christ's coming into the world? Do you do this with words
or by the way you live? How is John's message of repentance and judgment different from that of Jesus?
Copyright©2017, Anne M. Osdieck. All rights reserved.
Advent Days of Confessions
Again, this year each parish will have confessions times during the week of December 10 – 16. Confession here at
St. Bonaventure will be on Wednesday, December 13th from 9:30 to 10:30 am; 12:00 noon to 1:30 pm
and 7:00 pm to 8:00 pm.
Days and times of Confessions in other parishes near us:
Our Lady of Perpetual Help, 78 Clifton Road
December 12, 11 am–12pm, 12:30–1:30pm & 7:30–8:30pm
St. Louis-de-France, 1415 Don Mills Road
December 12, 6:30 pm to 8:30 pm
Blessed Sacrament, 24 Cheritan Avenue
December 19, 9:00 am to 12:30 pm & 5:30 pm to 7:30 pm
St. Timothy's Church, 21 Leith Hill Road
December 20, 9:45 am-12:00 pm and 7:45 to 9:00 pm
St. Bonaventure's Ministry with Maturing Adults
"Living our Spirituality in the Second Half of Life"
2018 Dates and Program Topics
Tuesdays, 9:30-11:30 am, in the Francis Room
January 23 Dementia and Alzheimer's – Fostering Compassionate Presence
January 30 Creating Circles of Care – What happens when I or a loved one needs
support and care at home?
February 20 Advanced Care Planning – This spiritual practice of reflection and
dialogue is for all adults. How to let people in your life know what kind of health and personal care you would want in the future if you were unable to speak for yourself. February 27 Understanding Islam – Being in dialogue with neighbours
March 13 Homeless in Toronto
March 20 The Wisdom of Teresa of Avila – Responding to the summons of our elder years
April 24 Special Event with luncheon
All are welcome. There is no monetary cost for this program.Contact Maureen McDonnell for more information at maureen@st-bonaventure.ca or call 416-447-5571 ext. 550
Theology and Tea
The last session of 'Theology and Tea' for 2017 is Thursday, December 21st, 9:30 to 11:00 am, in the Francis Room.
All are welcome!
Christmas and New Year Mass Schedule
Fourth Sunday of Advent
Saturday, December 23rd 5:00 pm
Sunday, December 24th 8:30 am, 10:00 am
No Noon Mass
The Nativity of the Lord
Christmas Eve
Sunday, December 24th 4:00 pm, 7:00 pm and 10:00 pm
Christmas Day
Monday, December 25th 10:00 am only
Feast of the Holy Family
Saturday, December 30th 5:00 pm
Sunday, December 31st 8:30 am, 10:00 am and 12:00 noon
Mary, the Holy Mother of God
New Year's Eve
Sunday, December 31st 5:00 pm
New Year's Day
Monday, January 1st 12:00 noon
"Giving Tree"
Bring the spirit of Christmas to someone in need. We invite you to take a gift tag from our 'Giving Tree'. The back of the gift tag will indicate the type of gift needed. We appreciate you returning your gift on December 17/18 at the latest. Your gifts will support those who seek help through The Community Share Food Bank, residents at Thompson House Retirement Home and Greenview Lodge Nursing Home.
Unauthorized Handouts and Posting in the Parish
We recently had unauthorized distributions of pamphlets and advertisements in the parking lot and unauthorized posting in the Church bulletin board. Parish sanctioned events, materials and information are not promoted this way. Persons, businesses, and organizations wishing to advertise to our parishioners must speak to Fr. Peter or Connie Durante in order to receive permission to do so. Thank you for your cooperation!
Parking Lot Issues!
Please refrain from parking in the Fire Route in front of the church and in the school area. Emergency vehicles need to have access to these areas. Also, Wheel-Trans can refuse to drop people off or pick them up in fear of getting trapped in the traffic. Please do not park in the accessible parking spots unless you have a proper permit. Anyone parking illegally can be ticketed and fines are severe. There is ample parking in the back of the property. Notices will be placed on vehicles that are improperly parked and the police will be notified. Thank you for your cooperation!
Requests for Baptism Records
To request a copy of your child's baptism record, contact the Ministry Centre by phone or email nimfa@st-bonaventure.ca. Provide your child's full name, date of birth and approximate date of Baptism. You will also need to provide photo identification such as a copy of your driver's license or passport.
Requests need to be made 5 days in advance of the time that the record is needed. In keeping with
the policies of the Archdiocese of Toronto, we follow civil legislation pertaining
to privacy and access to information.
Stewardship: A Way of Living
December 3rd Offertory Collection
Thank you for your generous donations.
Regular Collection: $ 9,996.75
Maintenance Fund: $ 4,042.00
Pre-Authorized Giving: $ 2,926 Donate Now: $ 328
Second Collections:
December 25th – Christmas Offering
Gifts of Securities
Do you have securities that have gone up in value? You can now make your parish offertory and special collections gifts using securities (stocks, mutual funds, bonds). You will not have to pay any capital gains on securities gift and you will get a tax receipt for the full amount. For more information contact the Development Office of the Archdiocese of Toronto at 416-934-3411 or email: development@archtoronto.org