†Friar Canice Connors, OFM Conv.
PLEASE JOIN US AT ST. BONAVENTURE CHURCH ON THURSDAY,
MARCH 28, AT 7:00 PM, FOR A MEMORAIL MASS FOR FR. CANICE.
FOLLOWING THE MASS, WE WILL HAVE A RECEPTION IN THE
PARISH HALL.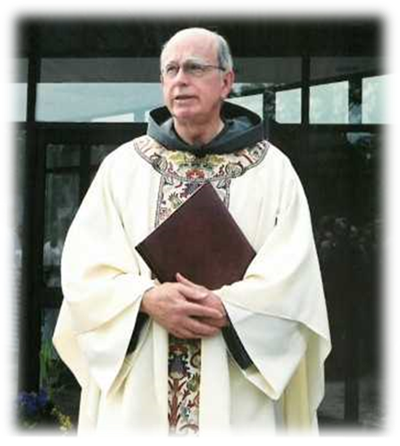 Born on December 3, 1934 in Hazelton, PA, Fr. Canice entered the Franciscan Friars Conventual in 1954 and made his vows as a friar on August 15, 1955. Fr. Canice was ordained to the priesthood on May 27, 1961. After receiving an MA in philosophy from The Catholic University of America, he pursued an MA in psychology from the University of Ottawa. Fr. Canice dedicated many years to the education and formation of young people as headmaster of Canevin High School in Pittsburgh, PA. In 1971 he was awarded a PhD in psychology.
Fr. Canice continued to serve God's People as a member of the Archdiocesan Chancery of Baltimore, MD. Blending remarkable expertise with deep compassion, he served as Director of Southdown Institute in Holland Landing, Ontario and St. Luke's Institute in Silver Spring, MD. Fr. Canice shared his years of experience as a friar-priest with seminarians when he was Rector of St. Anthony-on-Hudson Seminary in Rensselaer, NY.
In 1997 Fr. Canice received the President's Award of the National Federation of Priests Councils in acknowledgement of his service to the Gospel of Jesus. He served his brothers in the Franciscan order as Minister Provincial of The Immaculate Conception Province, leading the friars in lives of community and ministry. He served other fellow religious as a member of the Board of Directors, Vice-President and President of the Conference of Major Superiors of Men.
As pastor, Fr. Canice led the Parish of Our Lady of Mercy in Winston-Salem, NC. He also was the Rector and Pastor of the Franciscan Church of the Assumption in Syracuse, NY.
In 2008, our friend, Fr. Canice, came to us as a member of St. Bonaventure Friary, Toronto. We remember him as a man of great spiritual stature, preaching the Word of God with depth and wisdom. His "Theology and Tea" sessions sparked wonderful discussions as he led us in exploring our call to practical holiness and generous service. Fr. Canice was father, brother and friend to us.
When his health declined, Fr. Canice moved to Mercy Nursing Facility, Lackawanna, NY, where he continued to minister the Sacraments to his fellow residents until Sister Death called him home on March 17, 2019. He was laid to rest in St. Stanislaus Cemetery, Buffalo, NY.
MAY HEAVEN BE HIS AND MAY PEACE BE OURS.
Donations in Fr. Canice's memory will be used for the education of our young friars and the care of our senior friars. Cheques may be made out to "Franciscan Friars" and dropped off in the Parish Ministry Centre or the Collection Basket.
March 24, 2019
The Third Sunday of Lent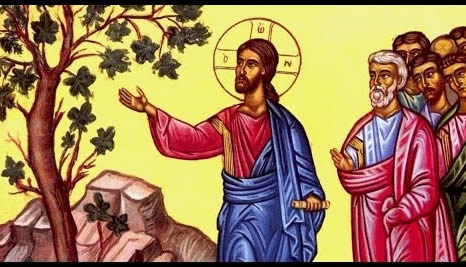 The Parable of the Barren Fig Tree
"May your life be fruitful." Years ago, these words were solemnly and sincerely spoken to me. In our own way, each of us receives this same blessing. During Lent, we are invited to reflect on the fruitfulness of our lives. Every one of us is created to do more than take up space in the garden.
Jesus, in telling the parable of the barren fig tree, teaches us something important. As gardener, he takes an active role in our lives, promising to rework and renew the soil. Gardeners know these unglamorous tasks are essential for producing abundant fruit.
Jesus lovingly commits himself to the troubles and trials of our lives. The wise gardener, he knows when and how to amend the soil. Tended carefully, even the least appealing aspects of our lives offer essential nutrients for healthy growth. We can be transformed; our lives can become ever more fruitful.
Our "yes" to this growth lies in our personal willingness to repent. Twice in this Gospel, Jesus emphasizes His lack of concern over who is a worse sinner or a worse offender. He simply looks for our willingness to be renewed.
At every Eucharist, we renew our "yes." We pray, acknowledging our need for our Lord: "only say the word and my soul shall be healed."
Brenda Merk Hildebrand
Campbell River, BC
And Now, A Word from Our Pastor
"Merciful Father, Grant that during Lent we may grow in the riches hidden in Christ." That's what we prayed at the Liturgy on the First Sunday of Lent. Here at St. Bonaventure we have a rich variety of opportunities to grow in the Lord.
Every Friday in Lent immediately following the 9:00 am Liturgy, in the Church. Stations of the Cross.
Tuesday, April 2nd, 7:00 pm, Parish Hall. Praying as a Traveler. Maureen McDonnell, our leader of the Ministry with Maturing Adults will focus on prayer as following in the footprints of Jesus.
Wednesday, April 3rd – A Day of Reconciliation. The Sacrament of Reconciliation with Individual Confessions will be celebrated throughout the day 9:30 to 10:30 am; 12:00 to 1:00 pm and 7:00 to 8:00 pm
Tuesday, April 9th, 7:00 pm, Parish Hall. A Simple Way of Prayer: Honesty, Silence, Conversation. Fr. Dennis will lead the evening with a focus on union with the Lord through prayer.
Hope you'll join us in these Lenten moments as we journey together to the Great Three Days (Holy Thursday to Easter) to celebrate our immersion in the Mystery of the Lord's Death and Rising.
Lenten Days of Confession:
March 31 −April 6, 2019
Listed below are the times of confessions at our parish and some neighbouring parishes. For the times at other parishes please go to www.archtoronto.org/confessions
St. Bonaventure Parish
Wednesday, April 3rd: 9:30 am to 10:30 am; noon to 1:00 pm; 7:00 pm to 8:00 pm
Our Lady of Perpetual Help Parish, 78 Clifton Road, Toronto
April 1st: 11:00 am to 12:00 pm; 12:30 pm to 1:30 pm; 7:00 pm to 8:00 pm
St. Andrew Kim's 849 Don Mills Road
April 3: 6:00 pm to 9:00 pm
April 9: 10:00 am to 2:00 pm
St. Timothy's Parish, 21 Leith Hill Road
April 10: 9:30 am to 12:00 noon, 7:30 pm to
9:00 pm
St. Gabriel's, 670 Sheppard Ave. East
April 17: 3:00 pm to 6:00 pm
St. Bonaventure's Ministry with Maturing Adults
A Spirituality for the Second Half of Life
Embracing Wholeness and Challenge

2019 Winter Program St. Bonaventure's
Ministry with Maturing Adults
Tuesday, April 2nd, 2019, 9:45 – 11:45 am, gather at 9:30 for coffee in the Main Hall
The Spiritual Journey
It is Divine Love that draws us into prayer. We will explore some contemplative prayer practices and notice together how we are drawn by love into service. Maureen McDonnell, facilitator, will lead us through some practices of prayer that arise as we journey into the mystery and riches of our spiritual journey.
All are welcome; invite friends and neighbours to this important presentation.
New Workshop Series Starts After Easter
Ginny Doty will be offering a new program; Creating Harmony and Hope Through Forgiveness. The weekly series; Wednesdays, April 24th to June 5th at 1:00 pm to 2:30 pm in the Bonaventure Room. Early registration is encouraged, as space is limited. To register and for more information contact: Ginny at 416-447-5571 ext. 560