THE FRANCISCAN CHURCH OF ST. BONAVENTURE
1300 Leslie St., Toronto, ON., M3C 2K9; Tel.416-447-5571;Fax:416-447-4082
Website: www.st-bonaventure.ca
YOU ARE ALWAYS WELCOME AT ST. BONAVENTURE!


GROWING IN SPIRIT, COMMUNITY AND SERVICE
Inspired by St. Francis we seek to live and proclaim the gospel in our daily lives,responding to
the spiritual hungers of the community and becoming an oasis of peace, prayer and service.
October 14, 2018
The Twenty-Eighth Sunday in Ordinary Time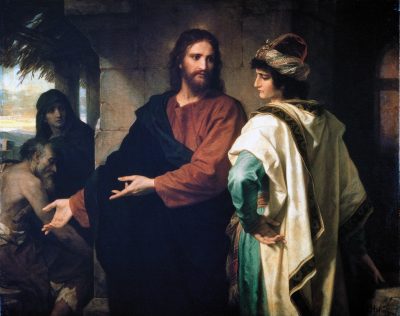 Wisdom and Riches
The rich man wants to have it both ways: he wants his possessions and he wants everlasting life. Jesus shatters his illusion; you can't have both, Jesus says. The rich man goes away sad, prompting Jesus to comment on the difficulty of being rich and entering the kingdom.
This is "God's word that is living and effective, sharper than any two-edged sword," and this is the spirit of Wisdom of which the first reading speaks: we are to value each other as if we were prime possessions, and the promise of everlasting life is made to those who have the power to give all they have to their brothers and sisters, especially those most in need.
Then who can be saved? Those whose love for God expresses itself in eagerness to do good for others.
Neither individuals nor nations should regard the possession of more and more goods as the ultimate objective. Every kind of progress is a two-edged sword. It is necessary if man is to grow as a human being; yet it can also enslave him, if he comes to regard it as the supreme good and cannot look beyond it. When this happens, men harden their hearts, shut out others from their minds and gather together solely for reasons of self-interest rather than out of friendship; dissension and disunity follow soon after. Thus, the exclusive pursuit of material possessions prevents man's growth as a human being and stands in opposition to his true grandeur. Avarice, in individuals and in nations, is the most obvious form of stultified moral development.
Pope Paul VI, Populorum Progressio, 1967:19. Now published in book form, To Love and Serve: Lectionary Based Meditations, by Gerald Darring
And now, a word from our Pastor:
I'm official. On Sunday, October 14 at the 10 am Liturgy, our regional Bishop Kasun installed me as pastor of St. Bonaventure. ("Installed" makes it sound like I'm a new kitchen appliance.) The ritual was simple, yet symbolic, expressing the three roles of a Catholic leader. To emphasize the work of sanctifying, leading God's People in the ways of love and holiness, Bishop Kasun led me to the Baptismal font-the source of God's love and life in us. To underline the duty of preaching and teaching God's goodness and truth, he brought me to the ambo (pulpit) - the throne of God's Word. And to symbolize my responsibility for the welfare of the community,
Bishop Kasun presented the keys of the parish to me. I am very humbled by God's call to be with you and serve you. The New Testament says: God's flock is in your midst; give it a shepherd's care." Please keep me in a prayer so that I can do that. With thanks and a prayer. Congratulations to Gavin Kottege, Althea Opeña, Lucas Webb, and Xavier Zonnekeyn who were given new birth by water and the Holy Spirit and welcomed into God's Holy People through Baptism.
~ Fr. Dennis
St. Bonaventure's Ministry with Maturing Adults A Spirituality for the Second Half of Life
Embracing Wholeness and Challenge
October 16 ~ Oscar Romero: Celebrating a Witness to Love, to be canonized October 14th, 2018. Guest from Romero House Internship Program will witness to the legacy of Oscar Romero through their community of hospitality and support of refugees.
All are welcome! There is no monetary cost for this program. For more information contact Maureen McDonnell at 416-447-5571 ext. 550 or maureen@st-bonaventure.ca
Blessed Oscar Romero will be canonized in Rome on Sunday, October 14. The Mass will be broadcast at 9:30 am on Salt + Light Television. To celebrate, Toronto-based Romero House has organized a number of local events, running from Thursday, October 4 to Sunday, October 28. For more information, please visit http://bit.ly/OscarRomeroCanonization
Sacramental Preparation 2018-2019 at St. Bonaventure Parish
The following information meetings are for parishioners of St. Bonaventure church.
Preparation for Confirmation
In September 2015, the age when youth may begin to prepare for and celebrate Confirmation was lowered to age 12 in the Archdiocese of Toronto. If your child is baptised Roman Catholic and 12 years old (grade 7) or older, then it is important for you and your son or daughter to attend one of the following parent-youth Confirmation information sessions held in the Main Hall of the Parish Centre to learn about the preparation process, registration, and celebration of Confirmation:
•Sunday, October 14th from 1:15 to 2:30 pm, or
•Tuesday, October 16th from 7:00 to 8:30 pm
Today Pope Francis led the Church in celebrating the lives and holiness of several women and men, among them Pope Paul VI, Bishop Oscar Romero, Mother Maria Kasper and Mother Nazaria Mesa whom he declared to be saints.
After the death of St. John XXIII, St. Paul VI called the Church to continue the Second Vatican Council and led us in implementing the call of the Holy Spirit in that Council to seek a New Pentecost. He died on August 6, 1978.
St. Oscar Romero served God's People in El Salvador during that nation's tragic civil war, calling for an end to injustice and violence while bringing Jesus' compassion to the poor and suffering. For daring to defend the defenceless, he was shot to death while celebrating mass on March 24, 1980.
St. Maria Kasper of Germany wanted to be a religious sister, but the secular climate of the time offered few options. She gathered other women into her home from which they served the sick and poor, eventually founding their own order of the Poor Handmaidens of Jesus Christ. St. Maria entered eternity on January 27, 1898. This year her Sisters mark the 150th anniversary of their foundation; they live and serve in five continents.
St. Nazaria Mesa of Spain began her religious life in one order but found her zeal for ministry was limited by the order's approach. She decided to begin a New Order called Missionary Crusaders of the Church. St. Nazaria's goal was nothing less than to "re-Christianize" the world. She and her sisters ministered to soldiers in time of war and established homes for children orphaned by war. She founded a magazine to foster unity and growth among women religious and established the first women's trade union. St. Nazaria completed her earthly pilgrimage on July 6, 1943. Thanking God for these new saints, we ask that God continue to bless the Church with the faith of St. Paul VI, the courage of St. Oscar, the generosity of St. Maria and the vision of St. Nazaria
SCAM ALERT!!!
An email scam previously reported by several other dioceses has now appeared in our own Parish with reports of at least one parishioner who lost $300 to a fraudster pretending to be the pastor of the parish. False emails from our pastor are sent asking for the electronic gift cards to be sent to another address so that they may be given to someone in need. To all our parishioners please be advised not to respond should you receive this email. And always verify suspect messages by phoning the sender on a known phone number (not the phone number in the suspect message).
Unauthorized Handouts and Posting in the Parish
We recently had unauthorized distributions of pamphlets and advertisements in the parking lot and unauthorized posting in the Church bulletin board. Parish sanctioned events, materials and information are not promoted this way. Persons, businesses, and organizations wishing to advertise to our parishioners must speak to Fr. Peter or Connie Durante in order to receive permission to do so. Thank you for your cooperation!
Requests for Baptism Records
To request a copy of your child's baptism record, contact the Ministry Centre by phone or email nimfa@st-bonaventure.ca. Provide your child's full name, date of birth and approximate date of Baptism. You will also need to provide photo identification such as a copy of your driver's license or passport.
Requests need to be made 5 days in advance of the time that the record is needed. In keeping with
the policies of the Archdiocese of Toronto, we follow civil legislation pertaining
to privacy and access to information.
Stewardship: A Way of Living
October 7th Offertory Collections
Thank you for your generous donations.
Regular Collection:…………………………. $ 8,301.80
St. Clare Inn Offering …………………… $ 4,303.50
Pre-Authorized Giving:…………………….. $ 2,926.00
Donate Now:……………………………………. $ 328.00
Second Collection:
October 21 ~ Evangelization of Nations Offering
(World Mission Sunday)
Please remember to update the Ministry Centre with any contact information and address changes
Gifts of Securities
Do you have securities that have gone up in value? You can now make your parish offertory and special collections gifts using securities (stocks, mutual funds, bonds). You will not have to pay any capital gains on securities gift and you will get a tax receipt for the full amount. For more information contact the Development Office of the Archdiocese of Toronto at 416-934-3411 or email: development@archtoronto.org
The Franciscan Church of St. Bonaventure

Report to our Parish community on the Financial Results for 2017

YEAR ENDED DECEMBER 31

2017
2016

For the year, Parish support through weekly collections,

Easter & Christmas offerings amounted to:

$ 662,733

$ 687,630

Out of these receipts, we must meet the operating

expenses for the Church, which were:

Salaries and benefits ( Note 2 )

412,905

454,493

Parish Operations ( Note 3 )

139,845

157,902

Maintenance & Utilities ( Note 4)

107,981

119,394

Archdiocesan Assessment ( Note 5 )

105,697

110,491

Total Operating Expenses

$ 766,428

$ 842,280

Since our regular collections and contributions were less than

expenses, we experienced an Operating Loss of:

$ (103,695)

$ (154,650)

During the year we received income from various other sources:

- Contributions received for Ministry Programmes. (The Church

portion of the Family of Faith Campaign)

78,833

78,288

- Bulletin advertising, support from The Franciscan Friars and

offerings for weddings, baptisms and funerals, interest earned.

39,652

55,183

Total Other Income

118,485

133,471

Net Income (Loss)

$ 14,790

$ (21,179)

Maintenance Fund - Collections and Expenses

2017

2016

Opening Balance, 01 January

$ 434,857

$ 399,322

Collections, contributions and interest earned

57,784

49,551

492,641

448,873

Expenditures

-

(14,016)

Closing Balance, 31 December

$ 492,641

$ 434,857

In 2017 there were no payments from the Maintenance Fund

In 2016, we purchased defibrillators and a new computer server

Balance Sheet as at December 31

2017
2016

Current Assets

Cash in banks - operating funds

$ 98,774

$ 93,284

Accounts receivable, prepaid expenses

226,700

156,474

Total Current Assets

325,474

249,758

Reserve Funds (Note 6)

492,641

434,857

Total Assets

$ 818,115

$ 684,615

Liabilities & Equity

Archdiocesan Assessment Due

$ 105,481

$ 54,591

Accounts payable

166,966

156,930

Total Liabilities

272,447

211,521

Equity-Excess of Assets over Liabilities

545,668

473,094

Total Assets & Liabilities

$ 818,115

$ 684,615

The Franciscan Church of St. Bonaventure -Financial Report - 2017

Notes to Financial Report

Note 1. Your Church supported the following Archdiocesan Campaigns

2017
2016

Share Life

$ 116,051

$ 105,475

Holy Land

5,915

6,342

Papal Charities

2,402

3,010

Marygrove Camp

3,368

3,845

Catholic Missions in Canada & Scarborough Foreign Missions

3,287

3,563

Needs of the Canadian Church

2,556

3,200

Mission Co-op

3,489

5,549

World Mission Sunday

2,909

3,206

Shepherd's Trust

6,621

6,141

Humanitarian Relief

1,597

8,751

Total Archdiocesan Collections
$ 148,195
$ 149,082

In addition ,

St. Clare Inn

$ 7,510

$ 9,970

Refugee Project

$ -

$ 974

The Archdiocesan Family of Faith Campaign was very succesful, raising $1,247,480 in

donations and pledges , 130% of the goal of $960,000. The Parish recieves 25% of the

pledge payments received by the campaign office during the year & these were:

$ 295,368
$ 380,197

Note 2. Salaries & Benefits

Salaries & benefits include:

* Salaries for the pastor, associate pastor, and other pastoral help throughout the year.

* Parish staff includes 3 full-time employees: parish manager, lay pastoral associate and custodian;

part-time custodian, cook, housekeeper, youth animator and clerical help as required throughout the year.

Note 3. Parish Operations

These expenses include:

* Liturgical:

Wine, hosts, candles, music, flowers, vestments, prayer books.

* Pastoral Ministry:

Youth ministry, adult education, retreats, hospital chaplaincy,

help to the needy.

* Administration:

Office expenses, postage, photocopier costs, weekly envelopes,

stationery, supplies.

Note 4. Maintenance and Utilities

These expenses include:

* Heat, power and water

* Landscaping, snow and garbage removal, taxes, insurance

* Repairs and maintenance

Note 5. Archdiocesan Assessment

The Archdiocese of Toronto levies a 15% assessment on all parish collections, (excluding

maintenance funds, gifts and bequests) to be used to help support poorer parishes as

well as helping to build other parishes and support Diocesan services.

Note 6. Reserve Funds consist of:

2017
2016

Maintenance & Improvement collections held for future use.

$ 492,641
$ 434,857